This printable coloring book page show the Death element Skylander HEX from the popular SKYLANDERS GIANTS game.
This SKYLANDERS GIANTS HEX colouring sheet is made by me based on the original artwork of herryluwuk.deviantart.com.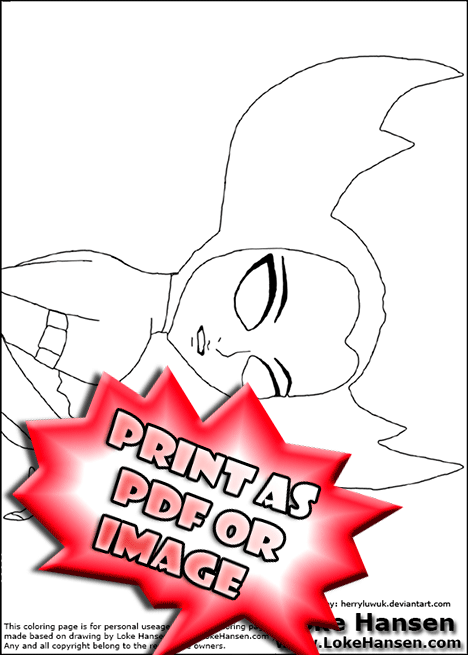 Skylanders and Skylanders Giants is something we have spent more than just a little time with. We've got figures in all shapes and sizes, we've played a good handfull of different IOS apps with Skylanders and we have colored dozens of Skylanders coloring pages.
HEX was the last Skylanders character we got when playing the first game, and she has been my personal favorite ever since.
I will be uploading a great deal of HEX printable coloring sheets, most of them are based on the fan-art found at Deviantart.com
About my coloring book pages: Read here
A small note about usage:
I don't care what you use the images for, but everything is based on brands or products that are copyrighted by someone somewhere. Some of the coloring pages are drawn entirely by me, some of them are drawn based on original artwork by others or optimized by me but actually drawn by others.
So… Please if you do use these files for anything, keep the above in mind and be sure to share artist data when possible. Many hours or work have gotten into making much of the art that I have spent time turning into printable coloring pages.
Thanks for reading!
Besides LokeHansen.com, I own and manage an upcoming manga comic that can be previewed at TAOFEWA.com and an abundance of online casino and gambling websites such as SecretSlotsClub.com and SecretCasinoClub.dk where players can find site and game reviews, unique promotions and even free flash slotmachine games!
Right now I am mainly working on my TAOFEWA manga comic script, related mini-games and animations.
Connect with Loke Hansen:
The links below point to some of my social profiles (I don't use them much though!)